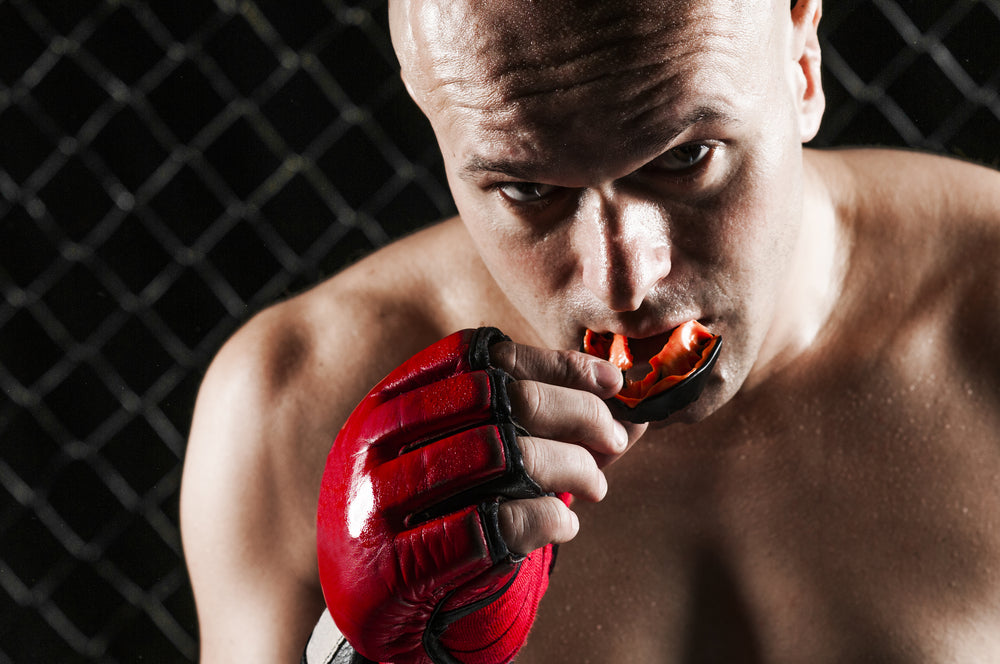 | Maxim Claes
Best Mouthguards for MMA, Boxing and Muay Thai 
Mouthguards are made from a soft plastic or laminate material which is inserted into the mouth to protect the teeth and mouth while playing sports. Teeth are the only part of the body that can't repair themselves, which is why oral health and the prevention of injury to the jaw area is so important. 
MMA, Boxing and Muay Thai are highly physical, contact sports, and one punch or kick to the jaw can be enough to seriously damage a tooth, or the surrounding soft tissue. Direct impact to the jaw can also send a shockwave through your brain and skull. The mouthguard acts as a shock absorber, spreading the impact of the force to a bigger area and limiting the damage to the area which has been hit. 
A Mouthguard Will:
Absorb impact and decrease the pressure to your teeth, jaw, and brain. 

Prevent chips and tooth breaks. 

Reduces cuts and injuries to the gums, tongue and inside cheek. 

Reduces stress on teeth (no teeth grinding or jaw clenching).
Things to Consider Before Buying a Mouthguard: 
Size and Fit: Buying a mouthguard which is moulded perfectly to your mouth shape is the best way to effectively protect your teeth and jaw, and ensures that the mouthguard will stay in place, even during the most frenzied of fights. 
A mouthguard shouldn't be too big, as that can have an impact on your breathing, but should fit snugly against your teeth without the need to bite it to keep it in place. 
Custom Fit Mouthguard: A custom fit mouthguard provides the most effective protection, as it has been specifically designed for your mouth. Either a specialized company will send out a kit where you can make an impression of your teeth and then send it back to them to make the mouthguard, or alternatively your dentist can make the mould for you. 
Although it is more expensive than other mouthguard options, the cost is worth it for the amount of protection it offers and the comfortable fit. 
Boil and Bite Mouthguard: A boil and bite mouthguard is the most common type of mouthguard thanks to its affordability. Made out of a heat sensitive material that softens when in hot water, conforms to your mouth shape and then hardens. 
They come in different styles and are a quick and effective way to protect your mouth. 
Out of the Box Mouthguard: These mouthguards are affordable, and the easiest to find, as they are on the shelves of every sports store. However, they do not provide a perfect fit for every mouth and are not the best choice for effective protection. 
Best Mouthguards for MMA, Boxing and Muay Thai 
Shock Doctor Gel Max Mouthguard (Buy here)
One of the most popular mouthguards in the sports industry. Its integrated breathing channels make this mouthguard super comfortable and breathable, while the gel liner helps it mould perfectly to your mouth. Its Heavy duty Exoskeletal Shock Frame provides full mouth protection for all high contact sports. Available in different colours. 
 Venum Challenger Mouthguard (Buy here)
A boil and bite mouthguard. It's advanced gel frame    offers a better fit, shock absorption and comfort, which allows for optimal breathing during a fight or sparring session.  
Available in over 10 different colour options. 
Impact Custom Professional Mouthguard 
This mouthguard is loved by professional Boxers, MMA and Muay Thai fighters. It is custom fitted with a professional grade fast and easy impression kit which includes paid postage to a dental lab, so the mouthguard can be made. 
Guaranteed to be a perfect fit! 
(Image: Impact Custom Mouthguards)
SISU Custom Mouthguard Aero 
The slim, and custom fit of this mouthguard make it very comfortable to wear, all while offering great protection. Talk, drink and breathe easily without having to worry about removing the mouthguard. 
Available in lots of bright, fun colours. 
(Image: SISU) 
OPRO Power-Fit Mouthguard 
This mouthguard is popular, and for good reason. The outer shell absorbs high impact blows, while the perfect custom fit lets you breathe, speak and drink without having to remove the mouthguard. Comes with a protective case. 
(Image: OPRO) 
ProDefenda Mouthguard 
A boil and bite mouthguard with centralised air holes which allows easy oxygen flow for better breathing. 
Anti-slip pads ensure that this mouthguard will stay firmly in place while training and fighting. 
(Image: ProDefenda) 
Everlast EverShield Double Mouthguard 
This mouthguard is highly regarded (especially in the boxing world). A boil and bite design provides the perfect fit. Soft and shock absorbent on the inside, and firm and shock dispersing on the outside. 
Its double guard means that it protects both your upper and lower teeth. 
(Image: Everlast)