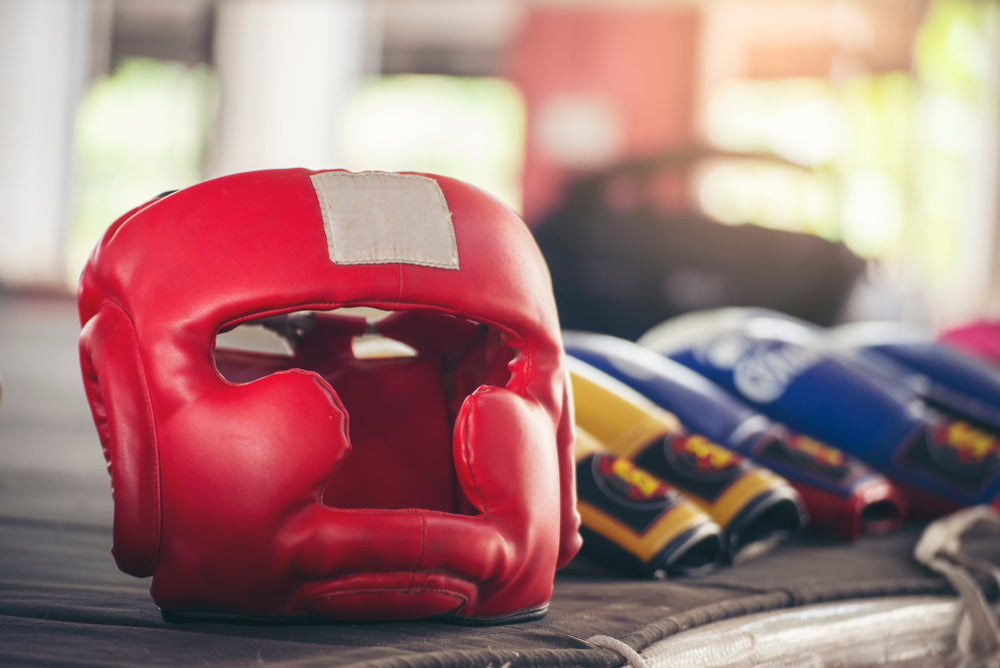 | Maxim Claes
Best Boxing Headgear 
Boxing is an extremely physical, high contact sport which is why it's so important to always have protective gear on hand when sparring and fighting. While boxing gloves, hand wraps and mouth guards can be found in every boxer's bag, there is some ongoing debate about whether or not headgear is an effective way to prevent serious head injuries and whether every boxer needs to wear it. 
Why Should Boxers Wear Headgear? 
The main benefits of wearing headgear include: 
Protects You from Cuts and Bruises:

Wearing headgear is the most effective way to protect your face from superficial injuries like cuts and bruises. Having an added nose bar can also prevent the risk of a broken nose. 
Protects You From Headbutts:

Headbutts aren't tolerated in professional boxing fights, but boxers can still practice the controversial move while sparring. Wearing headgear can help to lessen the impact of a headbutt and prevent split eyebrows, black eyes or broken noses. 
Gives You a Sense of Security and Extra Protection:

Wearing headgear can give boxers an extra sense of security, especially when they're beginners. 
Lessens Impact:

Although it is disputed whether or not headgear can prevent concussions and serious brain injuries, they can definitely lessen the impact of a punch or headbutt. 
Cons 
Reduces Vision and Sensory Information:

Wearing headgear can limit your vision and spatial awareness, especially headgears with a nose bar. This can cause you to become disoriented when sparring or fighting, making the use of headgear to be more of a hindrance than a help. 
Makes it Harder to Breathe:

Headgear can make you feel claustrophobic and can make it harder to catch your breath after a round in the ring. 
Extra Costs:

Boxing gear isn't cheap, and the costs add up over time. Buying headgear just adds to the money you have to invest in boxing. 
The Types of Headgear Available
Open Face Headgear 
A headgear which is covered on both sides, protecting your temples and ears. However, it also leaves your nose and cheeks unprotected. Mostly used in beginner boxing fights and the Olympics. 
Headgear with Cheek Protectors 
The most popular type of headgear. Similar to open face headgear, except the cheeks are protected by padding which prevent the risk of bruises and cuts. 
The extra padding also means that this style of headgear weighs extra, which boxers will need to take into account. 
Full Face Headgear 
Full face headgear has a nose bar and protects the whole face. 
It also weighs more than other headgear styles and may reduce your spatial awareness. However, it offers more protection and prevents your face from being bruised or cut. 
Things to Consider 
Extra Weight:

Wearing headgear adds extra weight and may have an impact on your flexibility and speed. 
Impact on Vision:

Wearing headgear with cheek protectors, a forehead and nose bar can limit your vision due to the forehead or nose bar sliding down or moving, while the cheek protectors can disturb your side vision. 
Bigger Target:

Headgear can make you a bigger target and can increase your probability of getting hit. 
Extra Cost:

Headgear is another piece of boxing equipment that can be quite expensive. 
Fit:

Boxing is an active sport with boxers constantly pivoting and bobbing and weaving. Your headgear has to stay on and be secure while you're in the ring. Make sure you try on different headgear styles for the perfect fit  before making a purchase. 
Best Headgear Options 
Made from genuine cowhide leather and a high-tech Japanese Amara artificial leather lining. 
Lightweight with an air cushion foam padding, it also has a secure double leather, hook and loop strap closing. 
Everlast Elite Pro Leather Headgear (RRP $199.95) 
Designed as a second skin fit which combines comfort and protection. Strategically manufactured for exceptional visibility. 
Evershield technology and additional padding offers maximum protection. 
Venum Elite Headgear (RRP $139.99)
Made from semi leather to provide comfort and durability. Ultra lightweight to allow for faster head movement and reflexes. 
Triple density contoured foam and a reinforced ear cover for maximum shock absorption. Has a 2-way velcro closure for a secure no-slip fit.
Cleto Reyes Face Bar Boxing Headgear (RRP $294.99) 
A rugged all-leather design, a face protection bar and a classic Cleto Reyeslatex foam alleviates the impact of punches.  
The lace-tie attachment on top and a hook and loop provides a one-size-fits-most option. 
Title Boxing Platinum Full Face Boxing Training Headgear (RRP $149.99)
An extra thick cowhide leather offers extra durability and protection. Designed for comfort with a super soft and supple leather inner liner. Fully padded cheek and chin pads provide extra protection. 
Its adjustable elastic top strap with hook-and-loop closure on back offers a secure fit.