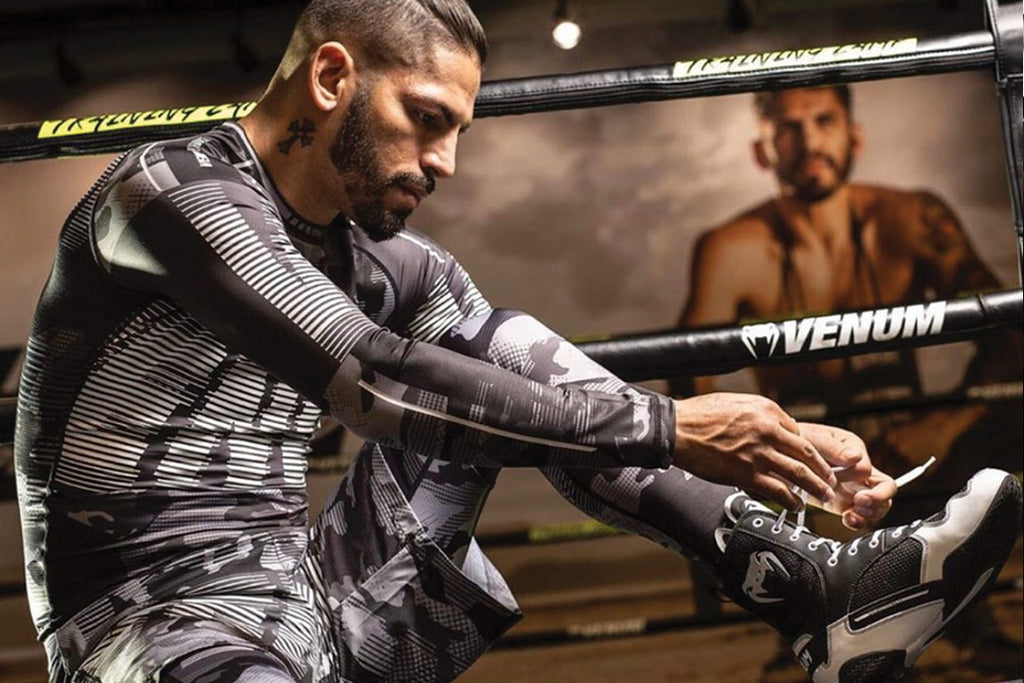 | Maxim Claes
Best Boxing Shoes for Advanced and Beginner Boxers
After boxing gloves, boxing shoes and boxing boots are the most important piece of equipment for a boxer. 
With so many different boxing boots and boxing shoes on the market, it can be difficult to know what to look for and how to choose the right pair. In this article, we talk about the signs of high-quality boxing shoes and introduce some top boxing shoes in the market. 
What are the signs of high-quality boxing shoes? 
Weight 
As a boxer, you need to be quick and light on your feet which is why boxing shoes need to be lighter than the average athletic shoe. Good quality light boxing shoes are made from a lightweight leather or suede. 
Some boxers prefer heavier boxing shoes which can provide more support, stability and power.  
Grip 
Boxers need good boxing shoes which are going to have a good grip, yet also have enough flexibility to allow for easy pivoting and movement. High quality boxing shoes will have a thin rubber sole with thin and slightly raised lines of gum rubber material which is light enough for flexibility but also has a good enough grip to provide support. 
Sole 
The sole of a boxing shoe will have an impact on a boxer's balance and their movement in the ring. Some boxer's will prefer a thinner sole so they can feel the ground and every movement their foot makes, while others prefer a thicker sole which makes them feel more powerful and stable. 
It's important to consider that thinner soles can tire your feet out faster due to your feet being closer to the ground and having less support, while thicker soles can cause your feet to feel disconnected from the ring and may cause less agile movement. 
Ankle Support 
Boxing shoes come in a low-top, mid-cut, or high-cut design. The most important things boxers look for is ankle support and flexibility when it comes to boxing shoe height. Each boxing shoe height has its pros and cons and it often comes down to the personal preference of each individual boxer. 
Low-Top: The most mobile amongst the three, making them especially ideal for training and sparring, but not as good for the ring. They allow for maximum foot and ankle flexibility but offer less ankle support than a mid-cut or high-cut design. 
Mid-Cut: A mid-cut is generally the most popular of the three designs as they offer both good ankle support and flexibility (combining the best of both the low-top and high-cut styles). They are considered the best style to wear in the boxing ring and are specially designed for boxing. 
High-Cut: The higher the shoe, the more support it offers, which makes high-cut boxing shoes best for in-ring use. It's important to note that high-cut boxing shoes fit differently. Depending on the make and design (some might be looser around the ankles while others are looser around the shins and lower leg area).  
Starting a new sport can be an expensive undertaking, and boxing is no different, especially if you're serious about it. Having the right pair of boxing shoes can make all the difference when you're in the ring. Spending a little bit more for a quality pair of boxing shoes that will offer support, grip, flexibility and agile movement is important to a lot of boxers. 
Beginner boxers will often start their boxing journey by training with a punching bag or sparring with a partner and will often wear a normal pair of athletic shoes, but once they begin to feel more confident and grow more passionate about the sport, they will want to invest in a proper pair of boxing shoes. 
Some of the best boxing shoes for beginner boxers include:
These Adidas Box Hog 2 boxing shoes are specially designed for beginner boxers and are super affordable, comfortable and stable for boxing training sessions.
Offering additional foot support with a cushioned heel, EVA midsole, and gum rubber outsole, this boxing shoe ticks all the boxes. 
An affordable, durable and lightweight pair of shoes for boxing.
Ideal for beginners as they have a full-length rubber outsole with a multi-directional tread which offers both a firm grip and stability. 

Some of the best boxing shoes for advanced boxers include: 
The Everlast Elite High Top boxing shoes are constructed with 
high quality Michelin® Technical Sole, open weave mesh, microfiber and suede, which is perfect for speed, comfort and durability. Their high top design provides more ankle support during punching, movement and sudden change of direction.
The Venum Elite boxing shoes not only combine characteristics such as lightness, strength, stability and grip, but also 
provide explosive support to allow a boxer to move very quickly in any direction with maximum comfort. 
Adidas Box Hog 3 is a low-top pair of boxing shoes which have proved their worth over the years. Designed for speed, they also offer protection and a great grip. 
For increased comfort, the boxing shoe features an EVA midsole for extra padding, but it doesn't  take away from the feel of the ground beneath you.
Another popular boxing shoe on the market, these Reebok boxing boots are much-loved for their design, performance and durability. 
They are secured by both laces and a strap which offers a great amount of support to your ankle but still allows for agile movement.