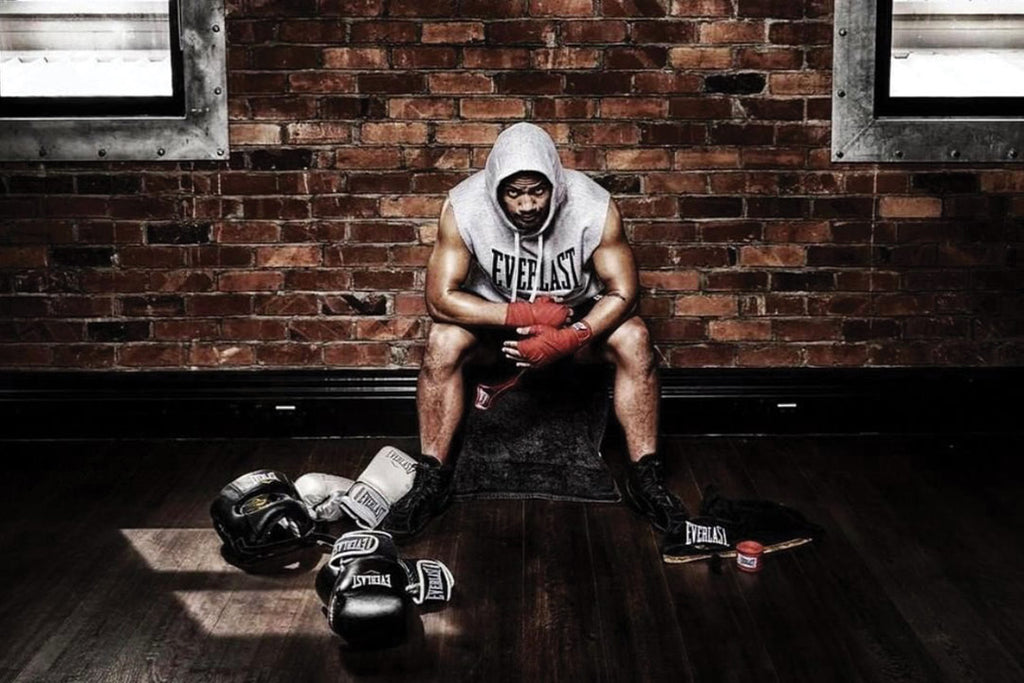 | Maxim Claes
What Equipment Do You Need for Boxing? 
The sign of a good boxer is one who is equipped with the correct boxing gear which will help them be at their best physically, and allow them to achieve greatness and success in the ring 
The essential boxing equipment every boxer needs, includes: 
Boxing Gloves 
No boxer is complete without a pair of boxing gloves. Finding the right pair of boxing gloves for you can be a daunting prospect due to all the different types, brands and sizes available. 
Selecting the right size (by considering your weight, your height and the circumference of your dominant hand) will make choosing the perfect pair of boxing gloves that much easier. All sizes are measured in ounces (oz) which is determined by the amount of padding in the glove. Most beginners start with larger gloves for more protection and then go down sizes as they become more confident and skilled. 
Boxing gloves should fit snugly with your fingers just touching the top of the gloves. You should be able to easily make a fist without it being uncomfortable. 
The different types of boxing gloves include: 
Training Gloves (All Purpose Gloves):

Gloves which provide enough protection (padding) for both sparring and punching bag work. 
Bag Gloves:
Specially designed for doing bag work. They have less padding in the knuckle area than normal or sparring boxing gloves, so you can get used to the impact and feel of your punches. 
Sparring Gloves:

Gloves which have extra padding to protect both you and your sparring partner. They can be a bit heavier than normal boxing gloves due to their extra padding. 
Boxing Shoes 
Wearing the right boxing shoes is crucial for your performance in the ring. Boxing shoes should have a narrow and tight fit for support, but shouldn't cause any discomfort or blisters. Always wear socks and move around like you're in the ring when trying on a pair of boxing shoes. 
Things to consider when selecting boxing shoes: 
Grip:

Boxing shoes should have enough grip, so you don't slip and slide in the ring, however, they also need to be flexible enough to allow you to pivot and move freely. 
Sole:

A thicker sole is more durable, but a thinner sole allows you to be more flexible and allows you to feel every foot movement. 
Mid-Tops:

Mid-tops offer more flexibility but are less supportive, especially around the ankle. 
High-Tops:

High-tops support the foot more, especially around the ankle, however they lack the flexibility that the mid-tops have. 
Hand Wraps 
Hand wraps are important to wear under your boxing gloves as they offer extra support and protect the tiny bones in your hands which can easily break from the impact of a punch. They also soak up sweat, preventing a build up of bacteria and odour in your boxing gloves. 
Some of the different types of hand wraps available include: 
Tape and Gauze:

The lightest and most comfortable option which offers lots of protection. They are available in a variety of different sizes, but they cannot be reused. 
Traditional Hand Wrap:

Affordable, easy to wrap, and can be reused. They come in set sizes. 
Elasticated 'Mexican' Style:

Stretchable, so they easily adjust to your hand shape and are the perfect fit making them comfortable and breathable. They are thicker than most hand wraps and may not fit under every boxing glove. 
Headgear
Headgear protects your head from injuries like cuts, scrapes and bruises. Well padded headgear will lessen some of the impact of a punch but will not protect against a concussion completely. 
Headgear ranges from minimal protection to headgear that covers everything except for your eyes. 
Mouthguard  
Mouthguards protect your teeth and prevent you from swallowing any teeth that might get knocked loose from a punch. Boil them in water to make them pliable and then bite down on it until it fits around your teeth. 
Some dentists make custom made mouthguards which are a perfect fit for your mouth shape. 
Punching Bag (Heavy Bags) 
A punching bag is great for beginners or for more experienced boxers who want to get their daily practice and training in. 
Punching bags come in a durable vinyl, leather or canvas material and are filled with sand, hard or soft soil (soft soil has an extra layer of foam).
Punching bags are available as both a hanging bag and a free-standing bag: 
Hanging Bag:

Ideal for footwork and is generally better for training. Favoured by more experienced boxers. However, they take up more space and can't be moved easily once it's set up. 
Free-Standing Bag:

Easy to move around and generally cheaper than a hanging bag. However, it doesn't provide a dynamic workout like a hanging bag does and it may be less durable. 
Skipping Rope 
A skipping rope helps boxers perfect their foot movement and also helps with their endurance, coordination and general fitness. 
Skipping ropes are incredibly affordable and a great training tool to have on hand. 
Having all these boxing essentials available to you will ensure that you're at your best both in the ring and out of it.